PVC fence
is a common fence material, and the cleaning and maintenance of its appearance are crucial to maintaining its beauty and durability. This article will introduce you to some PVC fence cleaning and maintenance tips to make your guardrail look new.
Regular cleaning
Regular cleaning is an essential step in maintaining the appearance of your PVC fence. You can use warm water and a mild detergent, such as dishwashing liquid or soapy water, to gently wipe the guardrail surface. Avoid using cleaners that contain abrasives or solvents, which can scratch or damage the PVC surface. For stubborn stains, use a soft-bristled brush to gently brush, but be careful not to use excessive force. After cleaning, rinse with clean water and dry with a clean cloth.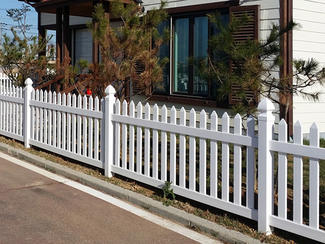 Prevent stains and fading
To prevent your PVC fence from staining and fading, there are some preventive measures you can take. First, avoid direct contact of colored liquids or chemicals, such as paints, dyes or cleaners, on the guardrail surface. Secondly, avoid placing heavy objects on the guardrail to avoid indentation or deformation. Additionally, consider installing awnings or curtains in areas exposed to direct sunlight to reduce UV exposure.
Regular inspection and maintenance
Regularly check the connections and fixed parts of the PVC fence to ensure they are stable and safe. If loose or damaged parts are found, repair or replace them promptly. Additionally, consider applying an appropriate PVC protectant to increase the durability and stain resistance of your guardrail.
Cleaning and maintaining your PVC fence is essential to maintaining its appearance and durability. Regular cleaning, preventing stains and fading, and regular inspections and repairs are the keys to keeping PVC guardrails looking like new. With proper cleaning and maintenance, you can keep your PVC guardrails looking great after long periods of use, providing a safe and beautiful environment for your home and campus.