Event vinyl fence
, also known as temporary or portable vinyl fences, typically do not require extensive maintenance. However, some general maintenance practices can help ensure their longevity and appearance. Here are a few considerations:
Regular cleaning: It's beneficial to clean event vinyl fences periodically to remove dirt, dust, and other debris that may accumulate on the surface. You can use a mild detergent mixed with water and a soft cloth or sponge to gently clean the fence panels. Rinse thoroughly with water afterward.
Inspect for damage: Regularly inspect the fence panels for any signs of damage, such as cracks, chips, or loose components. If you notice any issues, repair or replace the damaged parts promptly to maintain the fence's structural integrity.
Secure connections: Check the connections between panels to ensure they are secure. Temporary vinyl fences often use interlocking mechanisms or clips to connect the panels. Confirm that these connections are tight and functioning properly, as loose connections can compromise the fence's stability.
Monitor the posts: If the event vinyl fence includes posts, examine them to ensure they are firmly in the ground and haven't shifted. Make any necessary adjustments to keep the posts stable and upright.
Weather considerations: Extreme weather conditions, such as high winds or heavy snowfall, can impact temporary fences. If you anticipate severe weather, consider reinforcing the fence or taking it down temporarily to prevent potential damage.
Storage and transportation: If you plan to reuse the event vinyl fence for future events, proper storage and transportation are crucial. Store the fence panels and components in a clean, dry area to prevent moisture damage and protect them from direct sunlight when not in use. During transportation, secure the panels to prevent shifting or rubbing that could cause scratches or other damage.
Remember to consult the specific maintenance guidelines provided by the manufacturer for your particular event vinyl fence model. These guidelines may include additional recommendations tailored to the fence's design and materials.
Product
H3ft x W6ft White Vinyl PVC Portable Picket Fence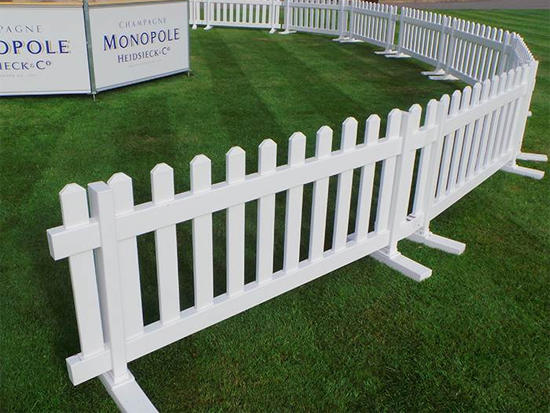 This portable picket fence is nice design and light weight, it is easy to move and assemble, it is the same of both sides, most customer use for event, wedding and exhibition outside. The hole is pre-rounted, we pack one set one bag, you only need insert the materials into the holes for the product.