The installation process for an
event vinyl fence
typically involves the following steps:
Preparation: Start by marking the fence line and locating the positions of the fence posts. Make sure to check for any underground utilities before digging.
Digging the post holes: Use a post hole digger or an auger to dig holes for the fence posts. The depth and diameter of the holes will depend on the specific requirements of the fence and local building codes.
Setting the posts: Place the fence posts in the holes and use a level to ensure they are plumb (vertically straight). Fill the holes with concrete or gravel and allow it to set according to the manufacturer's instructions.
Installing the rails: Attach the horizontal rails to the fence posts using brackets or screws. The number of rails will depend on the height of the fence and the manufacturer's recommendations.
Attaching the panels: Install the vinyl fence panels between the posts. The panels usually have pre-drilled holes or slots for attaching them to the rails. Use screws or brackets to secure the panels in place.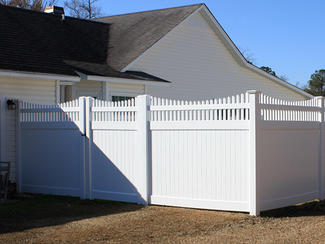 Adding gates and hardware: If your fence includes gates, follow the manufacturer's instructions to install them. Attach hinges and latches according to the specifications provided.
Finishing touches: Check the alignment and stability of the fence. Make any necessary adjustments to ensure it is level and secure. Trim any excess material, clean the fence, and remove any construction debris from the installation area.
The time required to install an
event vinyl fence
can vary depending on several factors, such as the size of the fence, the complexity of the terrain, the number of workers, and their level of experience. On average, a professional installation team can complete a vinyl fence installation in a day or two for a standard residential yard. However, larger or more complex projects may take longer to finish. It is advisable to consult with a professional fence installer to get a more accurate estimate based on your specific requirements.