The flexibility of
portable vinyl fencing
generally compares favorably to many other types of fencing materials, particularly when it comes to ease of installation, reconfiguration, and portability. Here's a comparison of the flexibility of portable vinyl fencing with some other common fencing materials:
Portable Vinyl Fencing: As mentioned earlier, portable vinyl fencing is lightweight and easy to move around. It often comes in interlocking panels or segments that can be quickly assembled and disassembled without the need for heavy machinery or specialized tools. This makes it highly flexible for temporary fencing needs, events, or situations where you need to adjust the fence layout frequently.
Wood Fencing: While wood fences can be flexible in terms of design and aesthetics, they are not as easily portable as vinyl fences. Installing or relocating a traditional wood fence typically involves digging post holes and using concrete for stability, making it a more permanent structure. Changing the layout or moving the fence requires more effort and resources compared to portable vinyl fencing.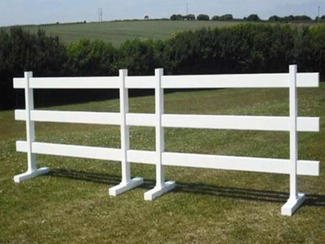 Chain-link Fencing: Chain-link fences are relatively easy to install and can be reconfigured to some extent. However, they are still more challenging to move or relocate compared to portable vinyl fences. Chain-link fences require posts set in the ground, and moving them often involves disassembling and reassembling the entire fence.
Aluminum Fencing: Aluminum fences can be lightweight and somewhat easier to move than traditional wrought iron fences. However, they may not offer the same level of portability and flexibility as portable vinyl fencing due to their more rigid and permanent installation methods.
Wrought Iron Fencing: Wrought iron fences are durable and can add a touch of elegance to a property. However, they are heavy and not designed for portability. Once installed, they are usually considered a permanent fixture and can be challenging to move or adjust.