The portability of
portable vinyl fencing
is one of its most significant advantages and sets it apart from many other types of fencing materials. Here's a comparison of the portability of portable vinyl fencing with some common fencing materials:
Portable Vinyl Fencing: As the name suggests, portable vinyl fencing is designed for easy transportation and installation. It is lightweight and often comes in modular panels or segments that can be quickly assembled and disassembled without the need for heavy machinery or extensive tools. This portability makes it an ideal choice for temporary fencing needs, events, crowd control, construction sites, and other situations where the fence may need to be moved frequently or installed and removed quickly.
Wood Fencing: Traditional wood fencing is not considered portable. It is typically installed with posts set in the ground and secured with concrete or other stabilizing methods. Moving a wood fence requires significant effort and resources, as it involves digging up and relocating the entire fence structure.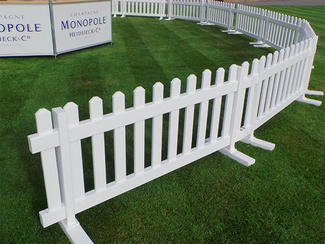 Chain-link Fencing: Chain-link fences are relatively lightweight compared to some other materials, but they are not as easily portable as vinyl fencing. They are commonly used for semi-permanent or permanent installations, and while it is possible to remove sections or panels, the process is not as straightforward as with portable vinyl fencing.
Aluminum Fencing: Aluminum fences can be lighter and more manageable than some other materials like wrought iron, but they are not designed for frequent portability. They are typically installed with posts set in the ground, making them less suitable for temporary applications.
Wrought Iron Fencing: Wrought iron fences are heavy and are not meant to be portable. They are usually installed as permanent fixtures, and moving them requires substantial labor and equipment.