Event vinyl fence, also known as temporary vinyl fencing, is commonly used for various events such as concerts, festivals, sporting events, and other large gatherings. Here are some of the uses of event vinyl fence:
Crowd Control: Event vinyl fence can be used to control the flow of people and create a designated area for the event attendees. It helps to prevent overcrowding and ensures safety.
Security: Vinyl fencing can also be used as a temporary security measure to prevent unauthorized access to the event. This is particularly important for high-profile events where security is a concern.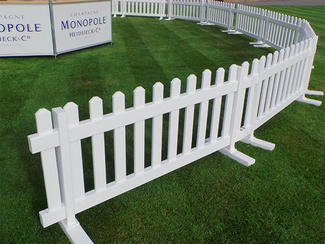 Aesthetics: Vinyl fencing is available in various colors and styles, which can add to the overall aesthetic of the event. It can be used to create a more visually appealing and cohesive look for the event.
Branding: Event vinyl fence can be customized with branding or logos to promote the event or sponsor. This helps to increase brand awareness and recognition.
Privacy: Vinyl fencing can be used to create a more private area for VIP guests or performers. It can also be used to block off certain areas of the event that are not open to the public.
Overall, event vinyl fence is a versatile and practical solution for event organizers looking to control crowds, enhance security, and create a more visually appealing and branded event.