Vinyl fences are a popular choice for homeowners because they are durable, low maintenance, and can last for many years. Here are some tips on how to maintain your portable vinyl fence:
Regular cleaning: To keep your vinyl fence looking good, you should clean it regularly. Use a soft-bristled brush and soapy water to remove dirt, dust, and grime. You can also use a pressure washer on a low setting to clean your fence.
Avoid harsh chemicals: Harsh chemicals can damage your vinyl fence. Avoid using bleach, solvents, or abrasive cleaners. Instead, use mild detergent and warm water to clean your fence.
Remove stains promptly: If you notice any stains on your fence, remove them as soon as possible. Use a soft cloth and mild detergent to remove the stain. Do not use abrasive cleaners, as they can damage the vinyl.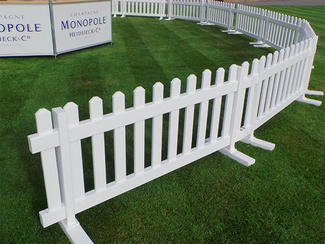 Inspect for damage: Regularly inspect your fence for any damage, such as cracks, chips, or breaks. If you notice any damage, repair it as soon as possible to prevent further damage.
Store properly: When not in use, store your portable vinyl fence in a dry, cool place. Avoid exposing it to direct sunlight or extreme temperatures, as this can cause damage.
By following these tips, you can keep your portable vinyl fence looking good for many years to come.