Portable vinyl fences can be a convenient solution for creating temporary barriers or enclosures, but there are some potential problems that may arise when using them. Here are a few:
Stability: While portable vinyl fences are designed to be stable, they can still be susceptible to tipping over or shifting if they are not set up correctly or if there is a strong wind or other external force acting on them. This can be a particular concern if you are using the fence to create a safety barrier or enclosure for children or pets.
Durability: Vinyl fences are generally quite durable and resistant to the elements, but portable fences may not be as sturdy as permanent installations. If they are moved frequently or exposed to harsh weather conditions, they may become damaged or worn more quickly than expected.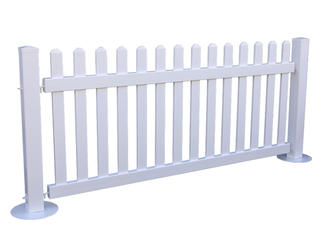 Installation: While portable vinyl fences are designed to be easy to set up and take down, they still require some assembly and installation. If you are not familiar with the process, it may take longer than anticipated, or the fence may not be set up correctly, leading to stability or durability issues.
Cost: Portable vinyl fences can be more expensive than other temporary fencing options, such as metal or plastic mesh fencing. If you only need a temporary barrier for a short period of time, it may not be cost-effective to invest in a higher-priced option.
Maintenance: Vinyl fences require very little maintenance, but if you are using a portable fence outdoors, it may still require occasional cleaning or repairs to keep it in good condition. If you are using the fence for an event or other temporary purpose, you may not have the time or resources to keep up with this maintenance.
Overall, portable vinyl fences can be a useful solution for temporary fencing needs, but it's important to be aware of these potential issues and take steps to address them as needed.