Vinyl fences are a popular choice for homeowners because they require less maintenance than other types of fences. However, regular maintenance is still necessary to keep your vinyl fence looking good and to ensure its longevity. Here are some tips for maintaining your vinyl fence:
Clean your vinyl fence regularly: Use a mild detergent and water to clean your vinyl fence at least once a year. You can use a soft-bristled brush or a cloth to scrub away any dirt or debris. Avoid using abrasive cleaners or tools that could scratch the surface of the vinyl.
Remove stains promptly: If you notice any stains on your vinyl fence, it's best to remove them as soon as possible. Use a cleaning solution made for vinyl fences or a mixture of vinegar and water to remove the stain.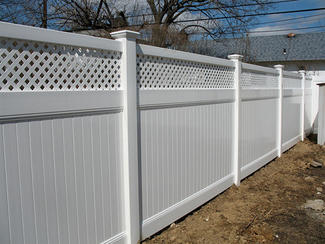 Inspect your fence for damage: Regularly inspect your fence for any damage such as cracks or holes. Repair any damage immediately to prevent further damage.
Keep landscaping away from the fence: Avoid planting trees or bushes too close to your vinyl fence. Overhanging branches or bushes can damage the fence and create an environment that promotes mold and mildew growth.
Protect your fence from the sun: Vinyl fences can fade over time when exposed to sunlight. Consider using a protective coating or applying a UV-resistant paint to help protect your fence from the sun.
By following these maintenance tips, you can keep your vinyl fence looking great for years to come.