UV protection is an important consideration for
PVC fence
, as exposure to ultraviolet (UV) rays from the sun can lead to fading, discoloration, and degradation of the material over time. PVC fences are designed to be UV-resistant, but the degree of protection can vary based on the quality of the PVC material and any additional protective measures that may have been applied during manufacturing.
Here are some points to keep in mind regarding the UV protection of PVC fences:
UV Stabilizers: Most PVC fences are manufactured with UV stabilizers as part of the formulation. UV stabilizers are additives that help the PVC material resist the damaging effects of UV radiation. These stabilizers act as a barrier, protecting the PVC from breaking down or becoming brittle when exposed to sunlight.
Fading and Discoloration: While PVC fences are designed to resist fading and discoloration, no material is completely immune to the effects of UV exposure. Over an extended period, especially in sunny and high UV areas, some color change or fading may still occur. High-quality PVC fences are formulated with enhanced UV protection to minimize these effects.
UV-Resistant Coatings: Some PVC fences may come with an additional layer of UV-resistant coating that provides extra protection against sun damage. These coatings can help extend the life of the fence's appearance and color.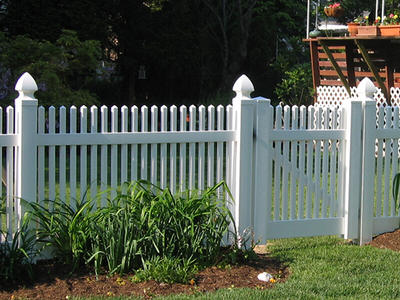 Maintenance: Regular cleaning and proper maintenance can also contribute to the UV protection of your PVC fence. Keeping the fence clean and free from dirt, debris, and pollutants can help maintain its appearance and reduce the impact of UV exposure.
Sealants and Protective Sprays: In some cases, applying a UV-resistant sealant or protective spray can provide an extra layer of defense against UV rays. Check with the manufacturer for recommended products that are compatible with your specific PVC fence.
Location Matters: The level of UV exposure your PVC fence receives will depend on its geographic location and the angle of the sun. Fences in areas with intense sunlight or higher UV levels may experience more significant effects over time.
Warranty and Quality: When purchasing a PVC fence, inquire about the manufacturer's warranty and the UV protection features of the product. High-quality PVC fences from reputable manufacturers often come with warranties that cover fading and discoloration to a certain extent.