PVC fences are known for their low-maintenance characteristics, which is one of the reasons why they are popular among homeowners. Here's a breakdown of the maintenance typically required for a PVC fence over time:
Cleaning: Regular cleaning is essential to keep your
PVC fence
looking its best. Use a mild detergent mixed with water and a soft cloth or a soft-bristle brush to scrub away dirt, debris, and any stains that may have accumulated. Rinse thoroughly with water after cleaning.
Mold and Mildew: PVC fences are resistant to mold and mildew, but in damp and humid environments, some growth may occur. If you notice any mold or mildew, use a mixture of water and white vinegar (or a mild bleach solution) to clean the affected areas. Always test a small, inconspicuous spot before applying any cleaning solution to the entire fence.
Stains: PVC fences are generally stain-resistant, but in some cases, certain substances like oil, grease, or rust can cause staining. Promptly clean any stains to prevent them from setting in. Use appropriate stain removers recommended by the manufacturer or a professional.
Scratches: While PVC fences are relatively scratch-resistant, they can still get scratched by sharp objects or tools. Minor scratches can often be buffed out with a soft cloth. For deeper scratches, consult the manufacturer's recommendations for repair options.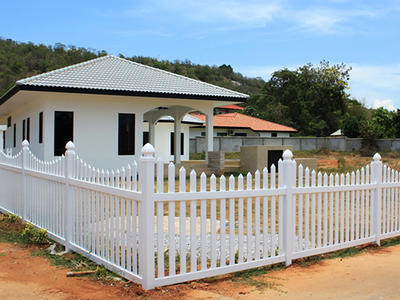 UV Protection: UV rays from the sun can cause fading or discoloration over time. To minimize UV damage, consider using a UV-resistant sealant or protective coating recommended by the manufacturer.
Hardware Inspection: Check the hardware components of your PVC fence, such as hinges, latches, and screws, periodically to ensure they are tight and functioning properly. Replace any damaged or corroded hardware to maintain the fence's structural integrity.
Lubrication: If your PVC fence has moving parts like gates, apply a lubricant to hinges and other moving parts to prevent squeaking and ensure smooth operation.
Trimming Vegetation: Trim any plants, vines, or shrubs that may come into contact with your PVC fence. This will prevent potential staining, damage, or moisture accumulation.
Winter Preparation: In colder climates, prepare your PVC fence for winter by removing any accumulated snow or ice. Be cautious when using snow removal tools, as sharp or abrasive objects can scratch the surface.
Inspect for Damage: Regularly inspect your PVC fence for any signs of cracks, chips, or damage. Address these issues promptly to prevent further deterioration.