Temporary vinyl fence
are highly resistant to both rot and pests. This resistance is one of the key advantages of using vinyl as a fencing material, especially when compared to natural materials like wood. Here's a closer look at the resistance of temporary vinyl fences to rot and pests:
Rot Resistance: Vinyl is a synthetic material that does not absorb water like wood does. As a result, it does not rot or deteriorate when exposed to moisture, rain, or humidity. This makes vinyl fences an excellent choice for outdoor environments where there's a potential for moisture exposure.
Pest Resistance: Vinyl is not attractive to pests like termites, carpenter ants, and other wood-boring insects that can cause significant damage to wooden fences. Since vinyl lacks the organic content that pests feed on, it does not provide a food source for them. This makes temporary vinyl fences highly resistant to pest infestations.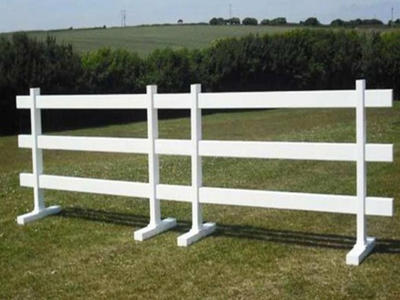 Mold and Mildew: While vinyl fences are resistant to mold and mildew growth due to their non-porous nature, it's important to note that mold and mildew can still develop on the surface of the fence in areas where moisture accumulates. However, regular cleaning and maintenance can prevent the growth of mold and mildew.
Longevity: The resistance of vinyl to rot and pests contributes to the longevity of temporary vinyl fences. They can maintain their structural integrity and appearance for a longer period compared to materials that are susceptible to rot and pest damage.