Vinyl fence
are designed to handle a variety of soil conditions and offer reasonable impact resistance. However, their performance in these areas can be influenced by several factors:
Soil Conditions:
Vinyl fences can adapt well to different soil conditions, including clay, sandy, or loamy soils. The key to addressing soil conditions is proper installation.
To deal with soil movement, vinyl fence posts should be installed with appropriate anchoring methods. For example, in areas with expansive clay soils, it may be necessary to use concrete footings to prevent posts from heaving during freeze-thaw cycles.
In regions with high water tables or frequent flooding, proper drainage and foundation design are critical to avoid water-related damage.
Impact Resistance:
Vinyl fences are generally impact-resistant to a reasonable extent. They can withstand minor impacts from objects like balls, branches, or debris without significant damage.
However, extreme impact, such as being struck by a vehicle or heavy machinery, can cause damage or breakage, especially at weaker points like the posts or rails.
Some vinyl fence designs incorporate impact-resistant features, such as reinforced bottom rails or thicker sections for added durability.
Gate areas are typically more susceptible to impact damage due to frequent use. Installing gate posts securely and using heavy-duty gate hardware can improve impact resistance at gate locations.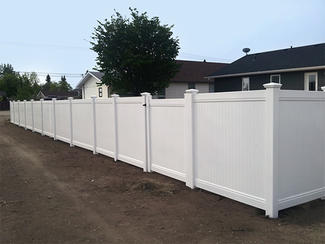 To ensure that your vinyl fence effectively deals with soil conditions and provides adequate impact resistance, consider the following steps:
Professional Installation: Hire experienced installers who are knowledgeable about the local soil conditions and can install the fence properly, including ensuring proper anchoring methods.
Choose High-Quality Vinyl: Select a high-quality vinyl fence with adequate thickness and impact resistance. Some vinyl fences are engineered to be stronger and more durable.
Gate Design: Pay special attention to gate design and reinforcement. Gates should be built with durability and impact resistance in mind, as they are often the most vulnerable part of a fence.
Regular Maintenance: Periodically inspect your vinyl fence for damage, especially after severe weather events or significant impacts. Repair any damage promptly to prevent further issues.
Protective Measures: If you expect heavy impacts in a specific area, consider installing protective measures like bollards or barriers to prevent direct contact with the fence.
While vinyl fences are known for their durability and low maintenance, they may not be entirely immune to extreme soil conditions or heavy impacts. Proper installation, regular maintenance, and selecting the right vinyl fence design can help mitigate potential issues and ensure the fence remains in good condition for an extended period.